Whether you are seeking biological, cosmetic, preventive or general dental care, it is important to consider a number of things when choosing your dentist and, when necessary, the course of treatment you would like to pursue. You are much more than your mouth, teeth and jaws. You are a complex whole — body, mind and spirit. And what affects one part has effects throughout the whole. Biological dentistry strives to make sure those effects are health-enhancing, not illness-causing.
Things to Consider When Going to the Dentist
What to Ask before Choosing A Dentist Or during Your Next Visit to Your Current Dentist
There is significant evidence that traditional dentistry has done substantial damage to the health of many people. Use your right to informed consent that we and so many are fighting for, on your behalf. Do your research and make sound, well  informed decisions.
Use this Checklist when selecting a dentist or during your next visit to your current dentist, particularly if you are considering the removal of dental amalgam/mercury fillings.
Share your Mercury Toxicity symptoms with your dentist.  Take our Mercury Toxicity Symptoms Questionnaire, then print it out to take with you to your next appointment.
Find out if your dentist belongs to any biological dental associations, such as the IAOMT. Very little time is spent in traditional dental schools teaching composite placement of dental materials. If your dentist has not taken additional training and does not belong to any of the biological associations that address these problems, chances are that you will not be happy with the result.
Don't unnecessary risks that could result in years of illness just for the sake of saving a few dollars.  Mercury removal has become an industry within the dental community. There are now many dentists who are removing mercury fillings, simply because of public demand and economics.  Biological dentists practicing mercury free/mercury safe dentistry, in most cases have a substantial investment in equipment and time. It is this investment and the precautions taken that can make 'true' mercury safe dentists more expensive than others who are inexperienced in biological dentistry. Take the time to ensure you are not being overcharged. Compare apples to apples.
Don't be afraid to ask your dentist for referrals. Speak with a few of the dentist's patients who have had similar procedures done. Check out the their website. Most biological dentists in North America support us through their listing in our Mercury Free Dentist & Holistic Practitioner Directory. If the dentist you are considering using is not listed, find out why. The information provided free to you on TALKInternational.com  relies on the support from provider subscriptions to the directory.
---
Meridians, Teeth and the Human Body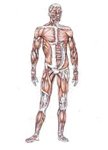 Every organ and every part of your body is directly linked to a specific tooth or area of the mouth via meridians, or energy highways. This connection is so apparent that a biological dentist can often assess your overall health and wellness by reviewing your dental condition.
Click on the human body to view the relationships between your teeth and body.
---
Glossary of Dental Terms